Most of the internet user browse the internet through mobile devices. So it is important to have good speed on your mobile version of the website.
If you have a responsive website you must have mobile versions of your website. Do you know how fast is your mobile website?
In this post, we will tell you why mobile speed is important. And we will share some tools to measure.
Why Testing Mobile speed is important?
Most of the speed test tools test your desktop version (by default). They test:
Load the desktop version.
Heavy pages load faster when you have a fast internet connection.
Powerful hardware load website assets quickly. Which means JS, PHP or any server-side programming request called upon very fast.
Whereas you cannot rely on these results. So if you want an accurate test of your mobile version of the website you need to consider:
Load the website using 3G or 4G.
Browsing on a low-powered device.
Tools to Measure Mobile Website Speed
1. ThinkWithGoogle
ThinkWithGoogle is a set of collection tools of Google. One of the tools is "Test My site".
This tool has unique features for testing your mobile version of the website. It has features of selecting a specific location and specific speed (like 3G, 4G).
All you need to do is input your website address and then it displays result.
You can see there is a location and network type. From the dropdown, you can change network and location.
In this screenshot, you can see when I change the location and network type the loading speed is also changing. So Google is actually using its bot and its data centre according to the country.
At the bottom you can find speed optimizations recommendation as well you can generate a report and send it to your mail.
2. WebPageTest
WebPageTest is a popular speed analysis tools. By this tool, you can analyse your website speed with a number of devices and network types.
For example, here's how you could set it up to test using an iPhone 6 and a 3G connection:
To know more about WebPageTest. Read WebPageTest Speed Test Tool: Ultimate Guide for 2019
3. GTMetrix
GTmetrix doesn't need any introduction by its popularity. By default GTmetrix only test your desktop version's website speed test. But if you register (100% free) on GTmetrixthen you will able to select mobile.
By example, I am using a Galaxy Nexus in Vancouver, Canada:
How much Slow is Too Slow on Mobile?
By using tools you will able to find the loading speed of your website. So now the question is how much slow is too slow on mobile? Let's share some data:
According to Akamai, 52% of mobile users want to load a website just in 2 seconds. And rest 58% of mobile users are abandoned users of slow network.
Another data shared by Google, Bounce rate and mobile page speed is connected respectively. So they made a chart. Where they showed how bounce rate increase for a slower website.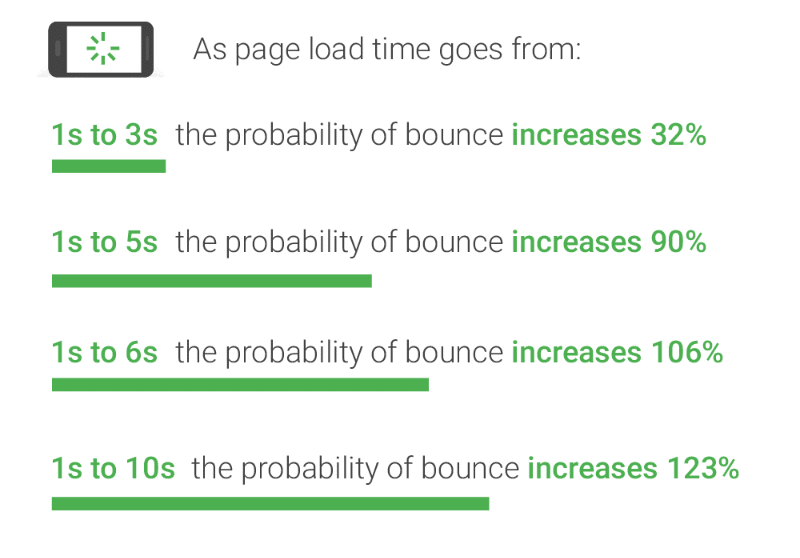 However, Google's official recommendation for the loading speed of a website is under 3 seconds for both mobile and desktop users.
Tips To Speed Up Your Mobile Site
I think you got an idea on how to measure your mobile website and what is the minimum ideal loading time. Now it's time for speed optimizing your mobile website. Here are some tips:
Compress Images: One of the main reason for website slowing is images. So you need to optimize your image correctly. Furthermore, you can read this article: Why Image optimization is important for SEO.
Optimize Javascript: Probably this is one of the reasons for website speed. Cause in mobile Javascript took so long time to load according to the server configuration. Which is why Google PageSpeed Insights usually yells at you to "Eliminate render-blocking JavaScript in above-the-fold content". A possible solution is Defer Parsing of your Javascript.
Include AMP: AMP is the best option for speed optimization of your mobile website.
Wrapping Up
Nowadays 95% of internet user browse the internet through mobile devices. So you understand how much important is your mobile speed.
If you are having a very bad speed on your mobile site. We are offering you a very good Speed optimization solution.