In the dynamic world of web development, the significance of selecting an apt theme cannot be overstated. A theme acts as the backbone of a website, influencing its aesthetics, functionality, and user experience. One such theme that has garnered attention in the WordPress community is the Sydney theme developed by aThemes. This review aims to provide an in-depth analysis of the Sydney theme, offering a fresh perspective based on extensive expertise in WordPress themes.
Overview of the Sydney Theme
Background
The Sydney theme is a creation of aThemes, a company initiated by Charlie Livingston in 2013. Starting as a one-man venture, it has blossomed into a reputable firm with over six employees and a growing portfolio of WordPress themes. The company prides itself on offering well-designed, user-friendly themes backed by swift support and regular updates. Sydney stands as their flagship theme, boasting over 100,000 active installs.
Variations and Support
Sydney is available in two versions: a free variant accessible from the WordPress.org theme directory and a paid version that comes with premium features and support. The paid version encapsulates all the features of the free version, adding a plethora of other functionalities that enhance the user experience. Notably, the theme offers excellent documentation even for the free version, inclusive of video tutorials and a support forum where users can interact with the developers. Moreover, the pro version grants access to priority support and a year of guaranteed updates, a testament to the company's commitment to customer satisfaction.
Design Aesthetics
Header and Footer Customization
One of the standout features of the Sydney theme is its full-screen header image capability. Users have the flexibility to add a high-resolution image as the header or footer, coupled with a call to action. This feature is complemented by the option to incorporate a full-screen slideshow in the header, enhancing the visual appeal of the website. Additionally, the theme offers a special footer reveal effect, adding an animated and interactive touch to the site. The theme also provides different layouts for desktop and mobile platforms, ensuring a positive first impression on the audience.
Typography and Parallax Background
Sydney offers a user-friendly approach to typography, allowing easy loading of site-wide fonts through the customizer. It supports Google Fonts, offering a wide array of choices to users. Furthermore, the theme facilitates the addition of a parallax background effect to any row in the layout, creating a more engaging experience for users. This, combined with the full-screen header and other theme features, enables the creation of modern, visually appealing websites within minutes.
Frontpage Blocks and Custom Widgets
The Sydney theme is meticulously designed to cater to modern business websites. It facilitates a block-based layout for the homepage, allowing users to swiftly set up a professional-looking front page. The theme is compatible with popular page builder plugins, including Page Builder by Site Origin, Visual Composer, and Beaver Builder, offering the freedom to create an unlimited number of landing pages.
Furthermore, the theme comes equipped with a variety of custom widgets, including contact info, video, call to action, and clients widget, among others. The pro version extends this functionality by offering additional widgets, enhancing the customization possibilities for your website.
Multiple Sidebars
The Sydney theme offers the functionality to create multiple sidebars, allowing users to add a variety of widgets and content types to different areas of their website. This feature enhances the user experience by providing easy navigation and access to relevant content, making the website more interactive and user-friendly. Users can customize the sidebars to match the overall aesthetic of their website, creating a cohesive and harmonious design.
Pre-Built Sections
To further facilitate the ease of website building, the Sydney theme offers a range of pre-built sections that can be easily integrated into any page. These sections are designed with modern aesthetics and functionality in mind, providing a quick solution for users to build a professional-looking website without the need for extensive coding knowledge. The pre-built sections include features such as testimonials, services, and portfolio showcases, among others, allowing users to display important information in a visually appealing manner.
Demos
The Sydney theme offers a rich variety of demos to cater to different user needs. As of now, it provides 6 free demos available to all users, and an additional 15 pro demos exclusively available to pro users, facilitating a quick and efficient setup of a professional-looking website. The developers are continuously adding new demos, expanding the options available to users and making it easier to find a layout that suits their specific needs. This dynamic addition of demos indicates the theme's commitment to evolving and adapting to the changing trends in web design.
Furthermore, the theme comes equipped with a variety of custom widgets, including contact info, video, call to action, and clients widget, among others. The pro version extends this functionality by offering additional widgets, enhancing the customization possibilities for your website.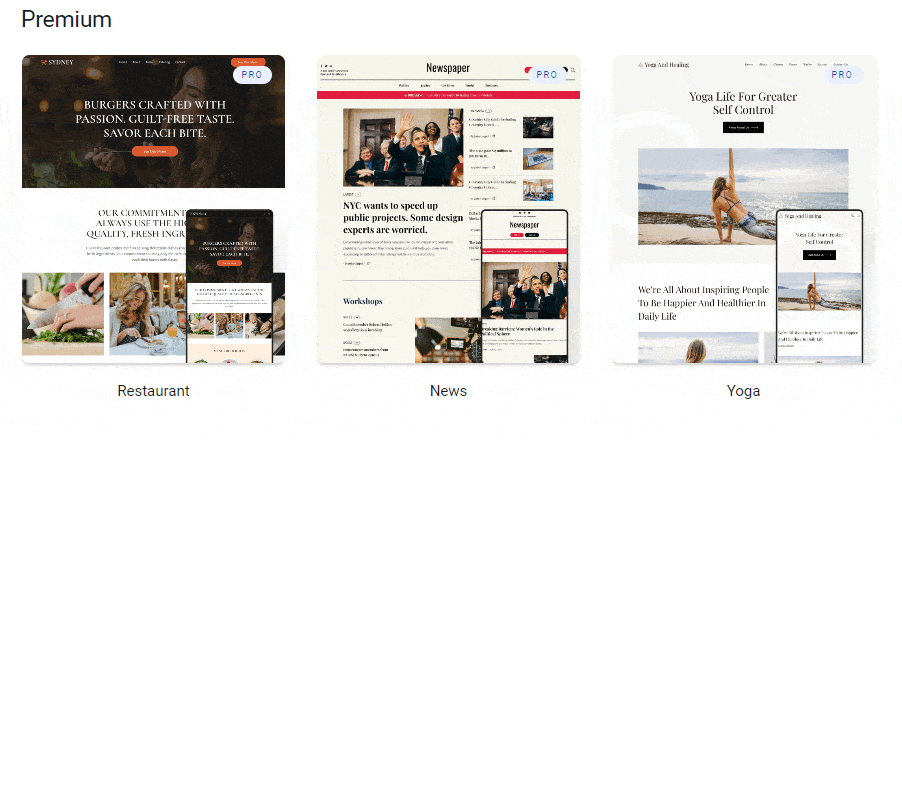 User Experience
Seamless Integrations and Blog Module
Sydney stands out for its seamless integration with popular tools such as WPForms, WooCommerce, Elementor, and HubSpot, enhancing the functionality and user experience of the website. Particularly, the integration with WooCommerce facilitates the setup of an online store, expanding the business capabilities of the website.
The pro version of the theme introduces a professional blog module, offering a range of layout options to make the blog section more attractive to readers. It includes built-in post sharing features and reading progress indicators, enhancing the user engagement on the blog posts.
Lightweight and SEO Optimized
In the competitive online space, speed and SEO optimization are vital for the success of a website. Sydney is built with a focus on speed, ensuring a lightning-fast loading time that significantly benefits SEO. A faster site translates to higher visibility on search engines like Google, potentially driving more traffic to the site. Moreover, the theme doesn't bloat your site, maintaining a clean and optimized structure that is favored by search engines.
No Risk Guarantee and Support
Sydney offers a 100% no-risk money-back guarantee, allowing users to try the theme for 30 days with the option for a full refund if not satisfied. This reflects the confidence the developers have in the theme's capabilities. Additionally, the theme provides extensive documentation, including video tutorials that guide users in setting up the theme and utilizing its features to the fullest. The support forums act as a platform where users can post questions and receive answers from the theme developers, fostering a community of assistance and knowledge sharing.
Personal Analysis and Critique
At WPERRFIX, we are here to help you navigate the world of WordPress with ease. Today, we are diving into the Sydney theme, a popular choice for many website creators, and here's what we think about it:
First off, the Sydney theme is like a breath of fresh air for anyone stepping into the website creation space. It's user-friendly, which means you don't need to be a tech wizard to create a stunning website. The theme offers a variety of ready-to-use designs, known as demos, which you can choose from. Currently, there are 6 free designs and 15 premium ones, with new ones being added regularly. This means you have a lot of options to choose a look that suits your style or business.
The theme also comes with features like multiple sidebars and pre-built sections. In simple terms, this means you can add various elements like images, videos, or contact forms in different areas of your website easily, without getting lost in technical jargon. These features save time and make the process of setting up your website a breeze.
However, we feel that the theme can do a bit more in helping your website rank better on search engines, a feature that would help draw more visitors to your site. Also, adding more variety to the pre-built sections could offer more choices for personalizing your website.
In conclusion, our team at WPERRFIX believes that the Sydney theme is a fantastic starting point for beginners. It's easy to use, looks professional, and offers a lot of room for customization. We are excited to see how this theme will continue to grow and adapt to the needs of website creators like you.
Conclusion
In wrapping up, we believe the Sydney theme is a fantastic pick for anyone stepping into the world of online websites. It's not just about the good looks; it's also about how easy it makes it for anyone to craft a website that feels both modern and responsive. Many people, both beginners and experts, have praised it, especially noting how quickly web pages load and the visually pleasing designs it offers.
Yes, it already has a lot to offer, but we think it can go even further. We're looking forward to seeing even more ready-to-use designs and some more tools that can help your website get noticed easily on search engines. But don't worry, the Sydney theme is always growing and improving, adapting to the latest trends and needs of the online world.
And here's the cherry on top: it comes with a no-risk guarantee and a community of users ready to lend a hand. This makes Sydney not just a theme but a secure and nurturing space for you to build a successful website. It's a shining star in the vast universe of WordPress themes, blending innovation with simplicity, and standing tall amidst the competition.